Hotels in Sanlucar de Barrameda >>>
Sanlúcar de Barrameda is one of Spain's three better-known sherry-producing towns (being Cadiz and Jerez de la Frontera, after which sherry is named the other two). Many wine-lovers enjoy visiting its cellars.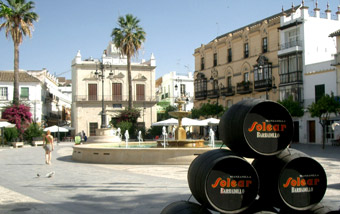 A centric square in Sanlucar de Barrameda
A seaside town, Sanlúcar de Barrameda, is also home to the oldest horse races in Spain and some of the oldest in Europe. The races take place, just before sunset, along the beach at the mouth of the river Guadalquivir every August within sight of thousands of spectators. Contested at distances of 1500 m and 1800m, these were the first-ever regulated horse races in Spain. Riders wear distinctive colours and caps.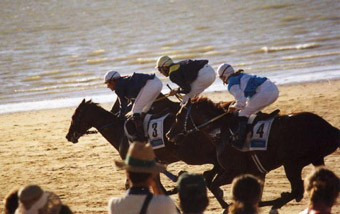 Horse races on the beach in Sanlucar de Barrameda
The city also has a large number of monuments and sites of historical interest, such as the castle of Santiago, from the 15th century; the palace of the Infantes of Orleans and Borbón, which is now used as the City Hall; the Church of Nuestra Señora de la O; the palace of the dukes of Sidonia, which now houses the municipal archives; and the Convent of Santo Domingo, a 16th-century building.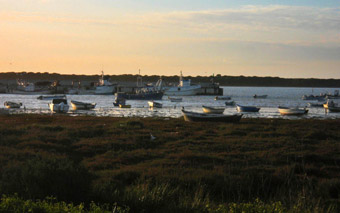 Near the port of Sanlucar de Barrameda, Costa de la Luz
Hotels in Sanlucar de Barrameda >>>
Towns on the Costa de la Luz in Cadiz province,
from north-west to south-east:
Gastronomy, Bodegas and Manzanilla in Sanlucar
Sanlúcar is a good place for those who love food and drink. One of the better opportunities for visitors to indulge themselves is the Sanlúcar Tapas Fair, a local gastronomy competition. Other events are: the Feria de la Manzanilla in late May, which is held at the beginning of the Noches de Bajo de Guía flamenco season, classical and jazz festivals, and the occasional first-rate concert. The city is also known for the Rocio pilgrimage, one of the more popular manifestations of the Roman Catholic faith; it can be compared to the pilgrimages to Santiago or Lourdes.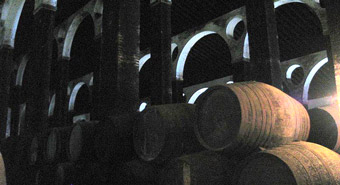 Bodegas of Manzanilla at Sanlucar de Barrameda