Conil de la Frontera, Costa de la Luz
Hotels in Conil de la Frontera >>>
Conil de la Frontera, some 25 miles to the south of Cadiz city, is built on a coastal plain and bathed by the mild waters of the Atlantic.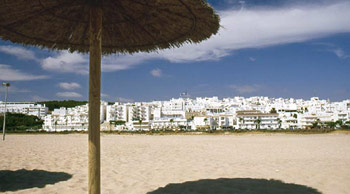 View over Conil de la Frontera from the beach
This white hamlet that until a few decades ago housed only fishing and agricultural families and catered for a handful of tourists is today one of the most popular tourist investment places in the whole of the Cadiz province.
14 km of beach at and around Conil de la Frontera
The countryside of Conil de la Frontera is a nice mixture of beaches, woods, pine forests (Roche and Colorado) and coastal thickets intersperced by hillocks and hills that, in some places, lead to cliffs at the sea's edge.
Beaches, cliffs and coves
One of the particular attractions of the area is the ten miles of beautiful beaches. Look out for Castilnovo, Los Bateles, La Fontanilla, El Roqueo, Fuente del Gallo and Roche.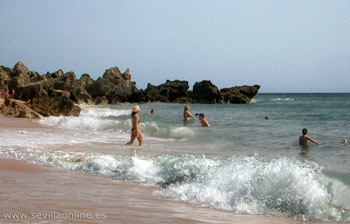 Rocks and waves beaches of Conil de la Frontera
And don't miss the inlets and coves surrounded by wind protecting woods with curious names, such as: Camacho, El Dudario, Los Pitones, Melchor, Del Aceite, del Tio Juan de Medina, del Pator, El Frailecilo, El Aspero, and Encendida.
Enjoying the town
Walking around Conil is relaxing, but since the town is on a hill that gently slopes down to the sea, it's recommended to start the ascent from the sea at the Paseo Maritime which climbs gently until it reaches the town centre.

View over Conil from the beach (cloudy day...)

View over the beach of Conil from the same point

There are many lively bars, terraces and cafés, sometimes with live performances, in the Bateles neighbourhood. The dishes of Conil are among the tastiest in the province and the local restaurants are busy until late, often in historic buildings which have a special atmosphere in their central patios.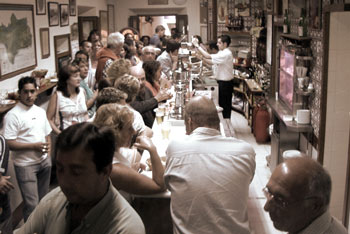 There are lots of bars at Conil de la Frontera
Hotels in Conil de la Frontera >>>
Faro de Trafalgar, Zahora and Palmar beaches
Going south from Conil de la Frontera, towards Los Caños de Meca, you pass the Faro de Trafalgar lighthouse, marking Cape Trafalgar.

Faro de Trafalgar lighthouse at Los Caños de Meca
And yes, right in front of the lighthouse the important Battle of Trafalgar took place in which the Royal Navy, led by Admiral Nelson, destroyed Napoleon's combined Spanish and French fleet in 1805. The famous Trafalgar Square in London is named after this historic event.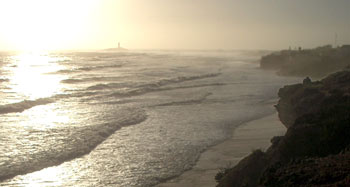 Cape Trafalgar as seen from Los Caños de Meca
Now it is hard to imagine the fierce battle that was fought here
Before arriving at the Trafalgar lighthouse, you come by two other magnificent beaches that stretch wide and almost empty as far as the eye can see: first El Palmar beach and next Zahora beach, running up to the lightouse.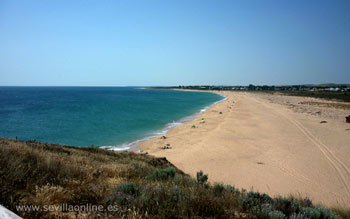 Zahora beach next to Trafalgar lighthouse, Los Caños de Meca
Towns on the Costa de la Luz in Cadiz province,
from north-west to south-east: