Holidays, travel & visits in Andalusia, Spain.
Andalusia is the southern-most region of mainland Spain. The outstanding sun and diamond blue skies give the Andalucians their life-loving and friendly character.

Natural park Acantilado y Pinar de Barbate, province of Cadiz
Andalusia is a place of contrasts. The variety of scenery and landscapes ranges from the warm valley of the river Guadaquiver through well wooded hillsides, volcanic deserts, such as Tabernas , to the year-long snow covered peaks of the Sierra Nevada. And then there is some 500 miles of coast with former fishing villages and, now, well established resorts with incomparable beaches to delight the whole family.
The coastline, which stretches for some 500 miles, provides a diverse and important habitat. But probably for most visitors, it is best known for the number and quality of its numerous beaches, all paradises of sand, sea and sun.
The coming together of the Atlantic and the Mediterrean has provided a special combination of waters, salinity, tides, quality of sand and micro-climates - almost all of which to the liking of visitors.
From the Costa de la luz of Huelva and Cádiz, through the Costa del Sol of Malaga and the Tropical Coast of Granada to Almería coast there is something special for everyone.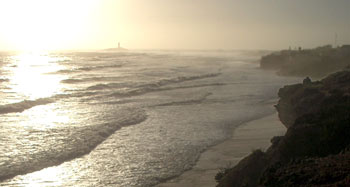 Andalucia is rich in nature and wildlife and takes its protection and people's enjoyment of it seriously. More than 17% of the land (larger than countries like Holland and Austria) is under one form or another of protection. There are some eighty Parks, Reserves and Sites which form a network of graded protection and management.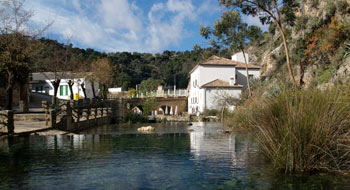 Serranía de Ronda - province of Malaga, Andalusia
The largest land areas of protection are the Doñana National Reserve (province of Huelva) and the Sierra Nevada National Reserve (Granada). These two have been recognised by UNESCO as of world importance.
Next, we have some unique landscapes like the fir forests in Grazalema Park and the calcareous rock formations at Torcal de Antequera and the only desert in mainland Europe at Tabernas in the province of Almeria.

The reservoir of Zahara el Gastor in Zahara de la Sierra
in Sierra de Grazalema natural park, province of Cadiz
In total there are twenty two Nature Parks (Parques Naturales) which cover special mountainous, wooded or coastal areas such as the Cape of Gata in the province of Almeria.
Hotels by cities - Hotels by regions - Hotels near airports
Recommended visits in Malaga province
Recommended visits in the province of Cadiz:

Recommended visits in the province of Seville:
Recommended visits in the province of Granada:
Recommended visits in the province of Cordoba:

Recommended visits in the province of Huelva
- Sierra de Aracena y Picos de Aroche nature park
Recommended visits in the province of Jaén
- World heritage towns of Úbeda and Baeza
- Sierras de Cazorla-Segura y las Villas nature park
Recommended visits in the province of Almería