The province of Cadiz - Andalusia, Spain
Hotels on the Costa de la Luz >>>
With it's around three thousand years of history, Cadiz is the oldest city of Europe, where Fenicians, Carthagenes, and of course Romans have had their settlements. It is an open port to the Atlantic and it has it's proper beach.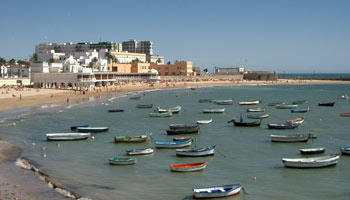 Playa de la Caleta, the Cadiz city beach.
Built on what was once an island, Cadiz today has two principal parts: the central or historic quarter with narrow streets and plazas, completely surrounded by fortified walls which constantly bring to mind the city's maritime history.
The newer part of the city, outside the walls, linked to the old city by the famous Puertas de Tierra, has neighbourhoods of high buildings clustered around the Central Avenue, which seems to be constantly in a state of rebuilding, mainly because there is no more land to expand outwards.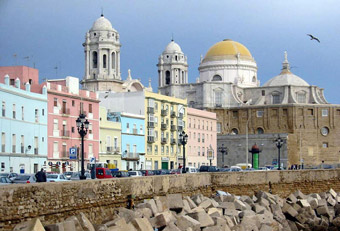 View on center and backside of the Cathedral of Cadiz
Cadiz has an essentially urban and maritime feel about it. Because it lacks any notable countryside or mountains around it, the Atlantic dominates the surroundings of Cadiz.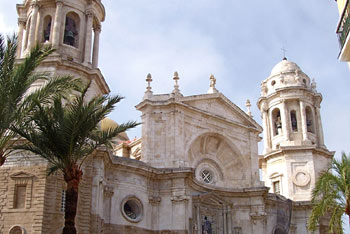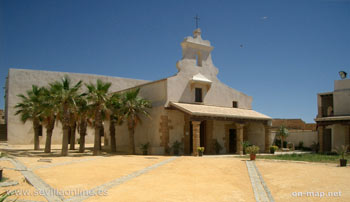 Inside the Castle of Santa Catalina, Cadiz (see birdview)
The province of Cadiz
The province of Cadiz offers, on one hand, the magnificent beaches of the Costa de la Luz and on the other hand nature in all it's glory in the nature reserve of Grazalema and the nature reserve of Alcornocales amongst others.
From Cádiz City to Tarifa in the south you can still find some less crowded and rather viriginal beaches like Los Caños de Meca and Zahora in the municipal term of Barbate, Zahara de los Atunes and Bolonia in Tarifa.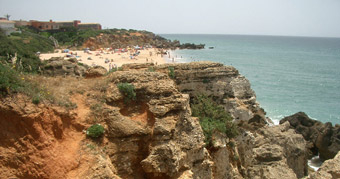 Rocks and beaches at Conil de la Frontera, Costa de la Luz
Conil de la Frontera offers 14 kms of very varied beaches: from long sandy spots to lonely coves very appropriate for the nudism. And near Conil you will find Chiclana de la Frontera, with its famous beaches of La Barrosa and Sancti Petri.
Very popular and famous for it's splendid conditions for windsurfing and kitesurfing is Tarifa. It is the most southern point of continental Spain and , bathed by waters of the Estrecho of Gibraltar and as opposed to the African coasts (15 km).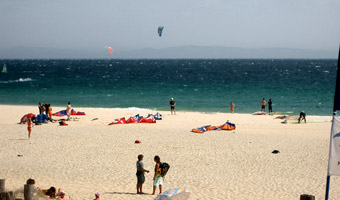 Kitesurf and Windsurf in Tarifa, Costa de la Luz
From Cádiz city to the north you find other nice coastal towns, but with a different character, like Chipiona, Sanlucar de Barrameda and El Puerto de Santa María. Many people go there to enjoy good sea-food.
Every year in the summer a horse-race on the beach is held in Sanlúcar de Barrameda. This festivity is declared as International Interest.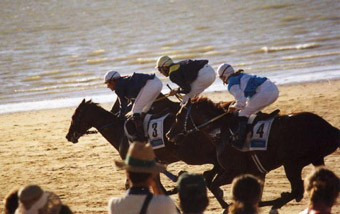 Hotels on the Costa de la Luz >>>
Apartments on the Costa de la Luz >>
Bird view of Cadiz with the castle of San Sebastian up front.
Towns on the Costa de la Luz in Cadiz province,
from north-west to south-east:
Nature in the province of Cadiz
Cádiz is extremely rich in natural beauty and some of the most important Natural Parks of Spain and Europe are found here:
Both are rich in flora and fauna, including species under threat of extinction like the "Pinsapo" in Grazalema.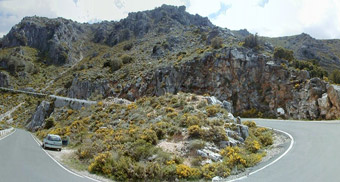 Hairpin turns in Grazalema natural park
Many birds find here their resting and feeding place just after or before making their jump from or to Africa.
Many other natural spaces are declared in the province, like the Bahía de Cádiz and Acantilado y Pinar de Barbate Natural Parks, and beautiful places like the Garganta Verde in Zahara de la Sierra and The Dune of Bolonia in Tarifa.
There is a wide range of options for hiking and other activities for nature-lovers. Climbing, horse riding and Canyoning among others.

The white villages
To the northwest of the province are located the famous White Villages of Cadiz, calls thus because all of them have a common denominator: surroundings of escepcional beauty, narrow streets, great slopes and adorned white houses with flowers. These towns are:
Arcos de la Frontera (the starting town of the White Villages), Algodonales, Setenil, Zahara de la Sierra, Grazalema, Villaluenga del Rosario, Benaocaz, Benamahoma, El Bosque and finally Ubrique.
Each of these villages has its own unique characteristics and each of them is worth a visit or a stop when driving by.

Jerez de la Frontera
30 km from the capital we were with the monumental Jerez de la Frontera, city of resistances, that harmonizes between its walls the secular tradition of its warehouses, the horses and the echoes of the flamenco.
Also it emphasizes by the Motorcicle World-wide Championship at the Circuit of Jerez.