Sierra Nevada mountain range
Sierra Nevada means "snowy range" in Spanish. Its a mountain range in the provinces of Granada and Almería in the southern region of Andalusia, Spain.
Sierra Nevada reaches heights of over 3,000 m, which makes it the massif of highest altitude in western Europe, after the Alps. It contains the highest point of continental Spain, Mulhacén at 3,478 metres and the well-known Pico Veleta (Veleta Peak) of 3.396 m.
Sierra Nevada national and nature park
The Sierra Nevada mountain range offers a variety of interesting tourist and travel options, starting with the natural beauty of the whole massif. A large part of the Sierra Nevada mountains have been declared National Reserve, the highest level of protected natural areas. An additional area is classified as Nature Park, the next level of protected natural areas.

Map of Sierra Nevada National Park - Granada, Andalusia
Hotels in all of Sierra Nevada >>>
La Alpujarra
The Alpujarra (or Alpujarras) is the lower mountains and hills area on the southern flank of of Sierra Nevada mountain range (but not the national park), some thirty miles down from Granada city and only 25 miles from the beaches of the Tropical Coast (Costa Tropical). It is part of the provinces of Granada and of the province of Almeria.
Hotels for Sierra Nevada ski resort >>>
Apartments Sierra Nevada ski >>>
Sierra Nevada ski and snowboard resort
Pradollano
Further to the beautiful nature, Sierra Nevada also makes an excelent wintersport destination. Pradollano is the Ski and Snowboarding Resort of Sierra Nevada, in the town of Monachil, located just 31 kms outside of Granada city and at less than 45 km (26 mi) from the Tropical Coast.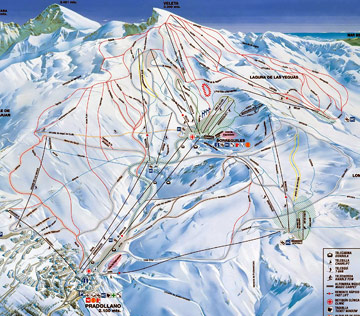 Map of pistes at Pradollano - Sierra Nevada Esqui
Sierra Nevada ski is Europe's southernmost ski and snowboarding station and enjoys more hours of daylight and sunshine than any other ski resort in Europe. However, most of its slopes face north-east so it is also guaranteed to have optimum snow conditions.