La Alpujarra, Granada - Andalusia
The Alpujarra (or Alpujarras) is a large mountain area some thirty miles south from Granada city and only 25 miles from the coast. It is part of the province of Granada and of the province of Almeria.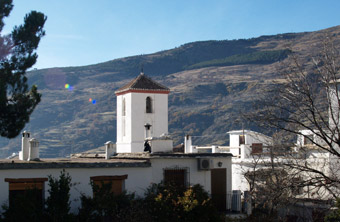 The Alpujarra is well known for the beauty and peacefulness of its white towns; its mountain landscapes, the house balconies full of flowers; its friendly people and the atmosphere they create - and most importantly - the spectacular backcloth of the Sierra Nevada. All of these attributes led to it being designated a Global Reserve by UNESCO , as well as a National park and a Nature reserve , especially for its native flowers and distinctive ecosystems.

History of the Alpujarra
The history of Alpujarra is important because it was the last refuge of the Arabs in Andalucia . It was here that Boabdil, the last Moorish king, lived for some months after the Christians captured the city of Granada. And, it was to the Alpujarra that the Moors, who refused to convert to Christianity, fled and found refuge during almost a century before they were finally expelled.

The Alpujarra also still have many features of Berber culture, particularly in everyday houses and in their unique irrigation aqueducts that farmers are still using.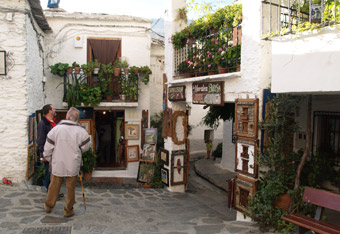 Among the settlements that make up the Alpujarra we must draw attention to the villages of the Barranco de Poqueira:
Capileira, Pampaneira y Bubión.
But other towns have their own charm as well and they are worth a visit: la Taha, Pitres, Ferreirola, Trévelez, Lanjarón, Busquistar, Orgiva, Portugos, amongst others.
The Barranco de Poqueira
Capileira, Bubión and Pampaneira
The old centre of Capileira has been declared a Historic and Artistic Beauty Spot and it has been mentioned by the Council of Europe as a model of popular architecture.
The visitors of these towns are recommended to get to know the real spirit of the place and the people in these villages. In this manner they can get to know the magic of a unique place, with its steep, twisting streets and its white houses.