Los Alcornocales natural park:
cork oak groves in Andalusia, Spain.
Hotels in Alcornocales natural park >>>
Los Alcornocales nature reserve is one of the largest cork oak forests in the world. The cork oak groves cover an area of 170,025 hectares between the provinces of Cadiz and Malaga.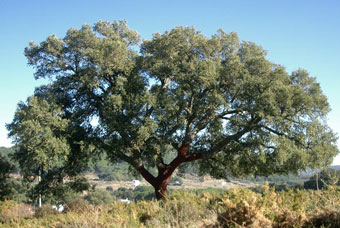 The park is made up of a series of low mountainranges which contain more sandstone than limestone, unlike the neighbouring Sierra de Grazalema, where the reverse is true, and, as the third largest park in Andalusia, is one of the region's most important protected areas, stretching as far as the Straits of Gibraltar. Its interior houses Cortes de la Frontera National Game Reserve. Rhododendrons, ferns and laurels grow in the shade. In the south are the canutos, river valleys in which species of vegetation from the tertiary period still survive.

The park is an important centre for ecological, rural and educational tourism due to its immense archaeological, cultural, historical and monumental value. It successfully combines compact patches of protected cork and gall oaks with cork extraction, big game and cattle farming.
Towns of los Alcornocales natural park
Cádiz : Alcalá de los Gazules, Algeciras, Castellar de la Frontera, Los Barrios, Medina Sidonia, Tarifa y Jimena de la Frontera.
Málaga : Cortes de la Frontera.
To the north Los Alcornocales continues in Sierra de Grazalema, another marvelous nature park shared by the provinces of Cadiz and Malaga.