Barbate, Costa de la Luz - Andalusia
Situated in the southwest of the province of Cádiz in a setting wich the Greeks called Hercule´s Columns, Barbate offers the diversity, richness and colour typical of Andalusia.
The beaches, the river, natural park, yachting harbour, fishing port, golf, gastronomy, sports, fishing, history, monumental remains, the climate, the festivals and the people together make up a land with a thousand and one flavours just waiting to be discovered which can be enjoyed at any time of the year.
This corner offers 25 km of coast of excepcional quality with beaches of different characteristics and uses. The scenary is framed by the blue of the coast and the green of the Natual Park of Acantilado and Pinar de Barbate, which is made up of a large pine forest wich surrounds the town and heads towards the sea opposite the 100 m high Tajo cliff.

Acantilado y pinar de Barbate: the small nature park of the Costa de la Luz between los Caños de Meca and Barbate.
The beaches of Mangueta, Zahora, Los Caños de Meca, Hierbabuena, Ntra. Sra. del Carmen, Cañillos, Pajares and Zahara de los Atunes form a strip of fine golden sand stretching from the west to the east of Barbate coastline.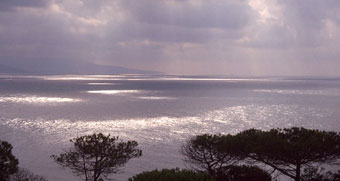 View from the Acantilado y Pinar de Barbate natural park
On the 24,96 km of coast you can enjoy relaxing strolls along the beaches with only the sound of the breaking of the waves, do water sports such as sailing, windsurfing and surfing, horse riding or go scuba diving.