Ai Weiwei's works exposed in Seville
The chinese artist and activist Ai Weiwei holds his first exposition in Spain in the Cartusian Monastery of Santa María de las Cuevas (El Monasterio de la Cartuja) in Seville. Under the title of "Resistence and Tradition" Weiwei expresses his position regarding the political situation in his country and his affinity for the traditional chinese culture, contrasting handcraft against industrial mass-production.
This Monastery is home to El Centro Andaluz de Arte Conteporáneo (CAAC), the Andalusian Contemporary Art Centre.
Dates: jan 31 - june 30, 2013
Times: 11:00 am - 07:00 pm
Tickets: € 1,80 - 3,01
More information: CAAC
Setting up " Sunflower Seeds"
One of his best known works, Sunflower Seeds, consists of about 3.3 million porcelain "seeds" (5 tons), being each individually hand-painted in the town of Jingdezhen by 1,600 Chinese artisans, and scattered over a large area of the exhibition hall.
In October 2010, Sunflower Seeds was installed for the first time at the Tate Modern Turbine Hall, London.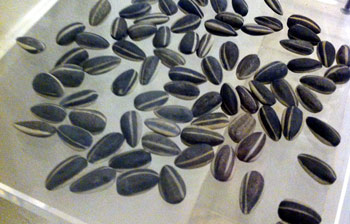 Close-up of Ai Weiwei's porcelain Sunflower Seeds
(pipas, in spanish)
Originally, the artist was keen for visitors to walk across and roll in the work to experience and contemplate the essence of his comment on mass consumption, Chinese industry, famine and collective work. However, on 16 October, Tate Modern stopped people from walking on the exhibit due to health liability concerns over the porcelain dust.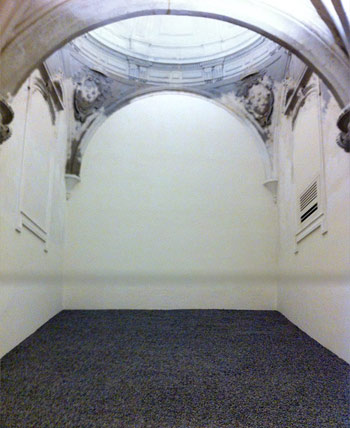 Ai Wei Wei's Sunflower Seeds as exposed in Seville
In February 2011, a 220-pound (100 kg) pile from Sunflower Seeds sold for $559,394 (well above its high estimate of $195,000) at Sotheby's in London. In May 2012, Tate Modern acquired 8 million of Ai's "Sunflower Seeds" with support from the Art Fund, although the figure was not disclosed. (from wikipedia)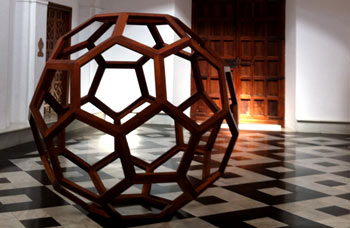 Important monuments in Seville:
Seville - The Giralda tower
Seville - The Cathedral
Seville - The Alcazar palace
Seville - The archive of the Indies
Seville - Plaza de España
Important monuments in Andalusia, South of Spain:
(best viewed with Firefox or Chrome or see big map)

monuments,

hotels and

apartments in Seville
(Latitude, Longitude) zoom of the map: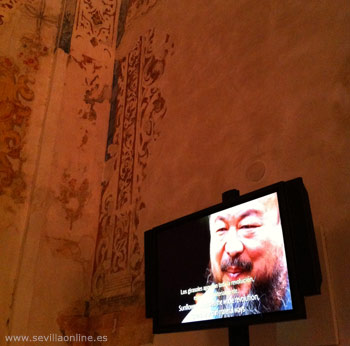 Ai Weiwei: "Sunflowers supported the whole revolution,
spiritually and in material ways."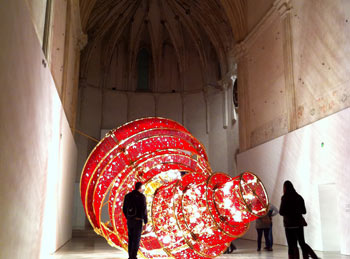 Ai Wei Wei - Resistance and Tradition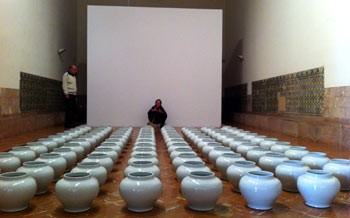 Ai Weiwei: Ghost Gu coming down the mountain