Alameda de Hercules district, Seville
A giant square in plain center
This vast open space in the very center of Seville, was originally fully surrounded by Alamo trees, that give the place part of its name - Alameda.

On the center-side (south) of the Alameda there are two giant Roman pillars, one of which bears a statue of Hércules, who according to the legends, was the founder of Seville, providing the second part of the name. Next to Hercules stands Julius Ceasar who visited this former roman settlement.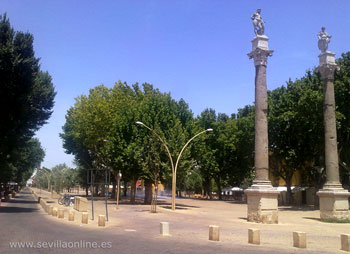 Hercules and Ceasar are crowning the roman columns
on the center-side (south) of the Alameda
Terraces in summer and winter
The Alameda de Hercules is a lively neighbourhood with many different types of bars and terraces where you can enjoy both your morning coffee and breakfast as your evening tapas and beer or your late late night drinks, many times until early morning.
Coffee on the Alameda
Bohemian atmosphere
The district has a certain bohemian air, which cannot be found in other areas of Seville, and with mixes very well with the friendly atmosphere of a variety of people that enjoy their leisure time on or around the Alameda.
The Alameda is the only altenative place in Seville. Diversity, vanguard and urban reality define itself.
Until some years ago the city council did not pay too much attention to this district, but fortunately they have changed their politics. Thanks to government aid many of the beautifull typical sevillian houses have now been restored.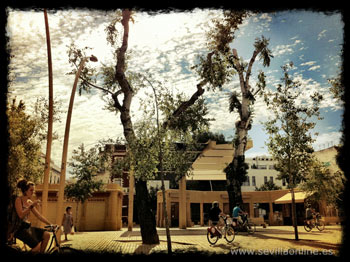 The relaxed and bohemian atmosphere on the Alameda
| | |
| --- | --- |
| Apartments Alameda | Hotel/Hostal Alameda |
| | |
Videoclip dedicated to the Alameda district - Seville, Spain
(best viewed with Firefox or Chrome or see big map)

monuments,

hotels and

apartments in Seville
(Latitude, Longitude) zoom of the map: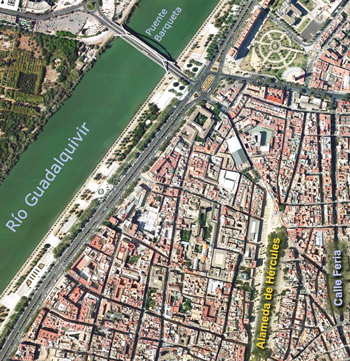 Alameda satellite photo for orientation.
Main districts in Seville:
Alameda - Arenal - Macarena - Santa Cruz - Triana