Macarena Arch and Basilique, Seville.
The Macarena Arch, lends its name to the neighbourhood. Next to it stands the Basilica of Macarena, building of recent construction, interesting for its Image of the Virgen de la Esperanza, a 17th century work and the most beloved of the Sevillians as well as the interesting museum which holds its furnishings.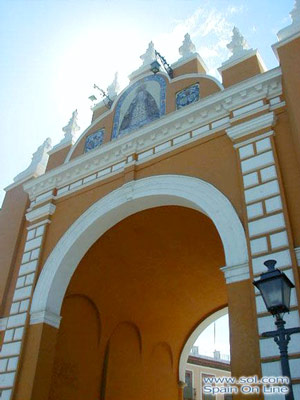 (rest in spanish - article serving in the first place as geographic orientation)
La Puerta (Arco)de la Macarena se conserva intacta y es una fiel ejemplo de las puertas sevillanas en la que fueron eliminados en gran parte los elementos arquitectónicos islámicos, por elementos de carácter clásico entre los siglos XVII y principios del XVIII o totalmente reconstruida como es el caso de la que nos ocupa entre los años 1723 y 1795.



La Puerta o Arco de la Macarena curiosamente además de los excepcional de escapar de la piqueta en el siglo XIX ofrece un monto de singularidades:

La primera de ellas, su nombre, sencillamente siempre se llamó Macarena incluso en la etapa musulmana se llamo Bab-al-Makrina, debiéndose el origen de este nombre a las mas variopintas y multicolores leyendas que se pierden en la noche de los tiempos. No deja de llamar la atención frente a las demás puertas que han recibido varios nombres y casi siempre en fusión de la finalidades de la mismas, entradas de Carne, Aceites, Carbón; o salidas a Osario (Cementerio), Barquetas (al servicio de barcas para cruzar el río).



Por otro lado no deja de llamar la atención que es la puerta por donde mas reyes y reinas de España han entrado y por separado, recordemos que a la Puerta de Goles le pusieron real porque entro por ella Felipe II y supuestamente hizo su entrada Fernando III,. Curiosamente por la Puerta de la Macarena entraron tres reyes y dos reinas independientemente y ha seguido llamándose Macarena.
Así por la misma entro Isabel y Fernando, los Reyes Católicos, pero por separado. Después entro el mal llamado Carlos V, en España no ha existido ningún rey con ese nombre, ni numero nominal, quien entró fue Carlos I de España y V de Alemania, Señor natural de Europa unánimemente reconocido, la que iba a ser su esposa Isabel de Portugal, para la boda que se celebró en Sevilla y por último entro por dicha puerta Felipe IV.

Ninguno de ellos lógicamente entró por la puerta que aquí contemplamos sino por sus diversas antecesoras.

(best viewed with Firefox or Chrome or see big map)

monuments,

hotels and

apartments in Seville
(Latitude, Longitude) zoom of the map:

En la puerta podemos distinguir cinco lapidas embutidas en la Puerta y encima del arco un soberbio azulejo que representa a la Esperanza Macarena, obra del insigne Manuel Rodriguez y Pérez de Tudela bajo el lema :"Esperanza nuestra, Ella es morada de Dios y Puerta del Cielo", flanqueados por los escudos de España, Sevilla y la Hermandad de la Macarena.En una de los cinco lapidas referidas , esta datada el 7 de Mayo de 1923, la Madre de Dios, en su advocación de la Esperanza " tomo posesión "de dicho arco, siendo descubierto por S.A.R la serenísima Señora y Princesa Dª Mª Esperanza de Borbon y Orleans .

Otra de las lapidas esta fechada un poco mas tarde de 1630, ordena a los guardianes de la puerta que no se alejen de ella, algo así como un convenio colectivo esculpido para la eternidad . El mas reciente corresponde a las últimas remodelaciones en la puerta acometidas en 1998.