Giralda Tower - Seville, Spain
The Giralda is the most emblematic monument of Seville.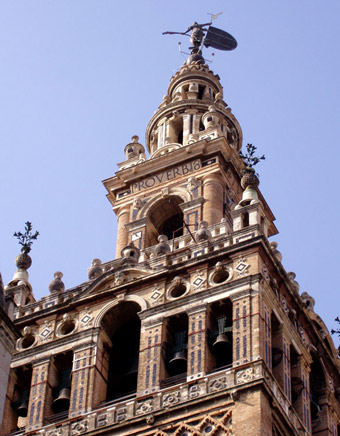 The giralda is the most emblematic monument of Seville
The Giralda tower was originally a Minaret, constructed by the Moors between 1184 and 1197 up to 76 m. in height. After the reconquest in 1568 the Christians fitted the minaret with the bell tower, reaching a total height of almost 100 m.


The current appearance of a belfry was designed in the 16C by the Cordovan architect Hernn Ruiz, who added the bell chamber and four upper rooms each with their own balconies. A statue symbolising faith stands at the top of the tower and acts as a weathervane, whose nickname Giraldillo also gives its name to the tower.

Other important monuments in Seville:
Seville - The Giralda tower
Seville - The Cathedral
Seville - The Alcazar palace


Seville

- The archive of the Indies
Seville - Plaza de España
(best viewed with Firefox or Chrome or see big map)

monuments,

hotels and

apartments in Seville
(Latitude, Longitude) zoom of the map:
Address:
Giralda tower in Seville
Calle Alemanes - 41001 Sevilla, Spain
Tel. +34 954214471 / Fax +34 954228432
A masterpiece of Almohad art
The subtle, delicate decoration exemplifies perfectly the principles of the Almohad religious movement. It is rigorous, austere and against all forms of luxury. This was the origin of an artistic trend that linked beauty with simplicity.


The Koutoubia tower in Marrakesh, built just before the Giralda tower, served as a model for the latter. Each one of its four sides is divided into three vertical sections decorated in sebka brick. This pattern, when repeated, forms a network of diamond shaped multileaved arcs.


You can climb the 70m bell chamber up a 34 story ramp with a slope that decreases toward the top to facilitate easy climbing.

Take your time and enjoy the views of the orange trees in the courtyard, the gargoyles, the pinnacles of the cathedral and the Alczar. Once there you will be rewarded for your hard efforts as the panoramic view over the town is superb.
Other important monuments in Andalusia, south of Spain: