Flamenco is het beroemde en populaire Spaans muziekgenre en dans afkomstig uit de zuidelijke provincies van Spanje. Kenmerkend voor deze muziekvorm zijn de soms Arabisch aandoende klanken, de uitbundig muzikale versieringen rondom het thema en het sterke ritme binnen een twaalftels-systeem.
De flamenco wordt beschouwd als deel van de algemene Spaanse cultuur en is gedurende de tweede helft van de 19e eeuw ontstaan in het gebied dat min of meer overeenkomt met de regio Andalucía.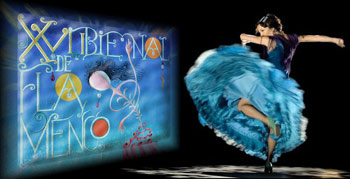 Bienal de Flamenco 2012, Sevilla

Introduction to flamenco
Flamenco, a means of escape which evokes sadness, installs a remote sense of irony and ridicule, makes a mockery of paradoxes and above all symbolises a way of life. Its name originates from the arrogant attitude of the councillors at the court of Charles V or from the haughty behaviour of those dancers who still remembered the rigidity of flamenco.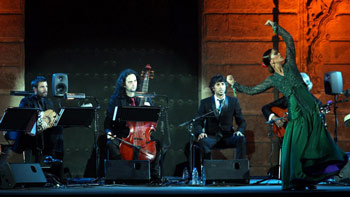 photos from the official Bienal facebook page
The reasons behind its name have not been forgotten. Flamenco is not an explanation but an expression of denial for those most passionate about the song "jondo". It often becomes the focal point of street parties with dancers strutting their stuff and brushing their way past others. This unique type of music was born from the musical genius of the most marginalised and persecuted of all Spanish people: the gypsies.

photos from the official Bienal facebook page
Flamenco shows in Sevilla
Flamenco cursus in Sevilla
Taller Flamenco
At present, Taller Flamenco has the pleasure of attending to an average of 600 people, flamenco students who can gather for this encounter, for many of whom Taller Flamenco is their first contact with the ins and outs of Andalusian-flamenco art.
History of Flamenco
The gypsies originated from the north of India and came to the Iberian Peninsula around 1440. They mixed with the humble town, which consisted of Muslims and Jews who had not yet fled the reconquest of Spain. These nomadic beggars, craftsman and horse sellers enriched their art with liturgic Jewish songs and throaty Arabic voices. The Gregorian Byzantine songs were taken from Mozarabs, and Christians who lived in Arabic areas were forced to worship the caliphate.

The three traditional types of music and the terrible suffering which occurred gave birth to witchcraft that became immortalised in the song jondo. The man sang to free himself from the treachery of a loved one, the anxiety of loneliness and the vibrant rage of living with his condition.
The women interpret the movements with total sincerity to create a song which accentuates the rhythm of the hands and feet. The magic of the song is that it releases the tormented soul. The songs were traditionally passed on orally and because the singer has his own unique way of interpreting the music, every song sounds different. This music became popular again in the 19th century with the appearance of the first cafes with entertainment. One of the most memorable cafes was owned by Silverio Franconetti in Triana. At this time the singer was normally accompanied by a guitarist, a singer and a dancer. If they were really good and spontaneous the flamenco could reach a professional level.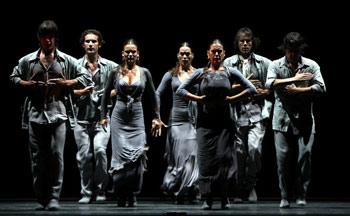 photos from the official Bienal facebook page
(best viewed with Firefox or Chrome or see big map)

Monumenten,

Hotels en

Appartementen Sevilla
(Latitude, Longitude) Zoom van de Kaart
Some impressions
photos from the official Bienal facebook page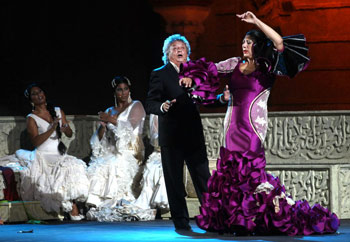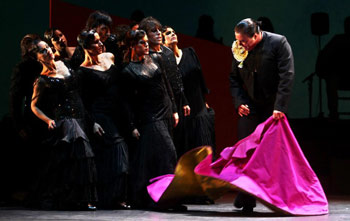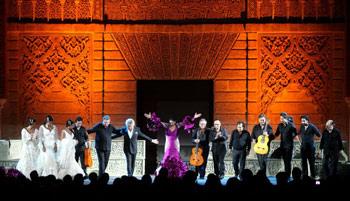 Essenties van Sevilla
Vliegveld van Sevilla - SVQ airport
vluchten van en naar Sevilla
- de Giralda toren
- de Kathedraal
- het Alcazar paleis
- Los Archivos de Indias
- Plaza de España



Als je tijd hebt is een bezoek aan de rest van Andalusië zeker de moeite waard, zoas Cordoba met haar Mezquita en Granada met haar beroemde Alhambra of lig je al aan de stranden van Huelva en Cadiz aan de Costa de la Luz, en de stranden van Málaga aan de Costa del SOL, ook grote trekpleisters van het zuiden van Spanje.